Podcast: Play in new window | Download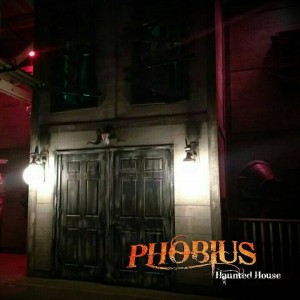 The Haunt House (one of HauntWorld's Top Haunts in 2012) in Dallas,TX is gone right? Or is it?
Nicci and Justin Fears from Wright City,MO may have just raised most of The Haunt House from the dead!
In early 2014, Nicci and Justin purchased The Haunt House from the Butler's and moved the entire show (except the building) from Texas to Missouri. After many truck loads of decorated wall panels, trailer loads of props & costumes, and numerous caffeinated road trips...they have transformed The Haunt House into Phobius!
Phobius Haunted House is a NEW Haunted Attraction located in Wright City,MO.....somewhere.
The reason I say 'somewhere' is because when you arrive at Phobius, you are not actually at the Phobius. You arrive at 420 East First Street South and then get on a bus with black out windows and then you are blindfolded. A few minutes later you show up at Phobius. So if you think you can run away...nope.
After your short awkward bus trip, you arrive at a huge creepy warehouse where you'll get to meet Dr. Cyrus Fears and his family of twisted souls and carnies. Yes...a psychopathic circus Doctor searching for more elixir and suffering from ongoing periods of rage and delusions. Sounds like fun right?
We interview Justin & Nicci about What New Haunt Owners Need To Know Before Starting, The Challenge of Moving The Haunt House from Texas to Missouri, and What to Expect from their Haunted House Phobius in 2014! You might just relate to their story or maybe you just want to go check out this Haunt yourself.
We play some more twisted tunes from Sam Haynes and announce the winners of four of his NEW CDs "Spine Chillers".
In the Haunter's Toolbox, we include a quick and easy way to corpse a skeleton with just a few tools and materials.
Haunt Topics in this Podcast Episode:
The WINNERS of our monthly giveaway for the month of September are
Shawn Doepke
Conan Berry
Dave Melson
Kirby Jarvis
They won this CD from Sam Haynes Halloween & Haunt Music. You can buy one here.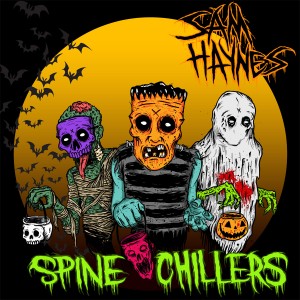 To be included in our monthly giveaways SIGN UP HERE FOR FREE.