Podcast: Play in new window | Download
Midsummer Scream is a weekend full of Halloween and Haunted Attractions located in Long Beach, California. Interactive mini-haunts, classes to improve your Haunted House, celebrity guests, special events and parties, and over 225 exhibitors selling their products & services.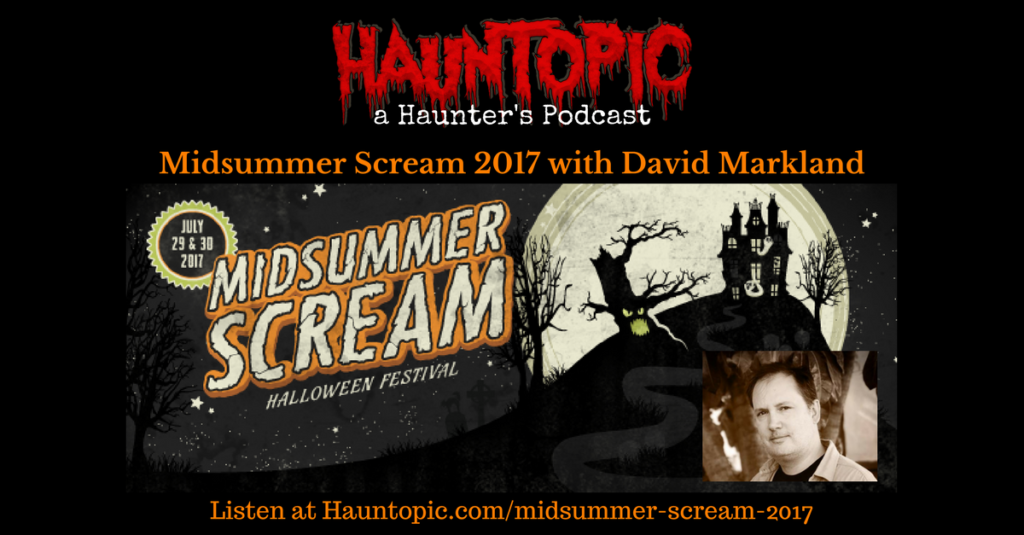 In this podcast episode, Darryl Plunkie and Phillip Hernandez chat with David Markland about the purpose of Midsummer Scream and the new things you can expect if you attend. Plus, we dive a little behind David's background before Midsummer Scream and how he spends Halloween night in California.
Where is Midsummer Scream?
Midsummer scream is located at the Long Beach Convention Center at 300 E Ocean Blvd, Long Beach, CA 90802.
Special hotel rates and tickets can be purchased here at the Midsummer Scream Website. Check out the new classes and celebrity guests too!
What's NEW for Midsummer Scream 2017?
Bigger rooms and space for presentations and classes.
More expert panelists and presentations by the folks behind Halloween.
New topics and workshops to focus on specific challenges you may have.
Over 225 unique vendors to take a piece of Halloween home with you.
A party on a Haunted SHIP???
What we would do if we were going to Midsummer Scream?
Go through the Hall of Shadows (14 mini-haunts) until they kick us out.
Stalk Elvira until she tattoos her name into our skin.
Sit, listen, and take numerous notes on every expert panel hosted...even if we have to be in two places at once.
Try to contact any real ghost on the Queen Mary.
Live-stream the Decayed Brigade Slider Performance!
A little about David Markland.
We hope you can make it out to Southern California to attend Midsummer Scream one day. And hopefully we can meet you out there! Take advantage of the other great events coming to California within the month of August...listen to the podcast to find out where they are.
Having a difficult time recruiting and training Scare Actors? Don't know where to start when it comes to Marketing your attraction? Click here to learn about our training videos.
Scare Ya Later!