You are just a few clicks away from learning what it really takes to find a safe and code-friendly location for your Haunted House or Haunted Attraction!
Get instant access to the "How to Find the Perfect Spot For Your Haunted Attraction" video
Brian Foreman takes you through the entire process of finding a commercial Haunted Attraction location, inspections, insurance, codes/permits and more!
Topics covered in this video training:
Ideas to think about before you choose a location for your Haunted Attraction?
Learn the most important things you need to know before you find a property.
Outdoor attractions, indoor attractions, & trailer haunts
Building codes and fire safety
Researching your local market to increase revenue
Instant access to Brian Foreman. Contact him for answers to your questions!
Many more questions answered in this online video seminar
$25


This highly detailed video audio course is compiled from years of experience and information about finding the perfect spot for your Haunted Attraction from Haunter Brian Foreman. You get full access to the video training, audio recordings (mp3), and bonus material. Over 1.5 hours of material focused on Finding the Best Location for Your Haunted House plus Question and Answers from other Haunters who attended this live online seminar.
The Haunt Specialist: Brian Foreman (Founder of ScaryVisions & HaunTopic Radio)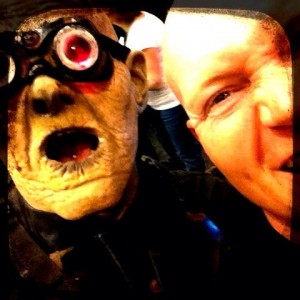 Brian Foreman has experience in scare acting, managing and building a Haunted Trail, a seasoned Home Haunter, and now opening a new Haunted Attraction.
Learn from his past mistakes as a Haunted Attraction Business Owner and discover how to make finding a new Haunt Location easy and enjoyable!
Topics like Who Do You Need To Talk To Before You Settle On a Property, What Kinds of Insurance Will You Need, Who Is Really Going To Show Up to Your Attraction, and Is There Really an Advantage to Leasing Over Buying? (and lots more!)
This online video presentation explains how to secure a temporary or permanent location for your scare attraction and take all of the guess work out of it. You've got better things to do with your time...like building props and wall panels.
You can attend this professional Haunt Consultation without leaving your home and you also save hundreds of dollars! No travel fees and just a fraction of the cost of what a private consultation would cost you.