How to Recruit, Train, and Manage Actors for Your Haunted House (Online Training)
Welcome to Haunted House Actor Training for your Haunt! You are just a few clicks away from learning everything you need to know about recruiting, training, and managing scare actors for your Haunted Attraction. Whether you are wanting to open your own Haunted Attraction or you are a current Haunt Owner, these techniques and training lessons will get you on the right track in making your scare event successful.

 Topics covered in this training video class:
Scare Actor training techniques for your Haunted House actors
How to find actors that will stick around all season
Use these proven systems to train your new actors
Managing your actors for the best results
Step by step lessons to make you a better scare actor
Learn where to recruit actors and how to find the best ones.
Tips to train your actors and techniques to make them the best that they can be.
This highly detailed video and audio course is compiled from years of experience and information about scare actor training from Allen Hopps. You get full access to the video training, audio recordings (mp3), instructor notes, and bonus material. Over 2 hours of scare acting training material plus Question and Answers from other Haunters.
 The Haunt Specialist: Allen Hopps (Stiltbeast Studios)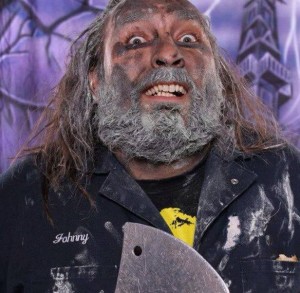 Allen Hopps has been in the Haunted Attraction Industry most of his life. Scare Acting Trainer, Prop Maker, Haunted House Designer, Haunt Manager, Haunt Consultant and many more talents. Allen uses his skill and many years of experience in this training series. He has worked at Universal Studios Halloween Horror Nights, Spookyworld, Skull Kingdom, Terror on Church Street, SCREAMS Halloween Park, and many, many more.
No only does Allen Hopps help you with Scare Acting Management, he shows you practical advice on how to be the best Scare Actor you can be and how to train your scare actors the same way.
"I thought Allen Hopps did a wonderful job, perhaps the best training seminar thus far. His material was very informative." -Gregory Wallace

"I love Allen and his training style. Because of him and his projects, my husband's friends think I'm a genius!  It was really nice to get his personal cell phone number and it was fun to be a part of the live seminar. I'll definitely do it again!" - Christie Watkins

"It was a great seminar. This is super specific." -Chris Screws
Purchase Scare Acting 101: Recruiting, Training, and Managing Haunted House Actors
$25