Podcast: Play in new window | Download
There are quite a few unique Haunted Attraction Podcasts and Audio Shows out there on the internet today, each with their own style and value. Haunt Weekly is one of those shows. Jonathan Bailey & Crystal Ramey produce one audio show each week that covers one specific topic within the haunt industry. They dig deep into subjects such as Scare Actor Training, Haunted Attraction Safety, and Industry News. Plus new podcast topics each week. It gets me excited to see what topic their coming up with next!

In this podcast episode of HaunTopic Radio we chat with Jonathan & Crystal about many topics as a Haunter. Some of the main conversations are about Copyrights and Trademarks as a Haunted Attraction, Haunted House Concepts and Design, and What Really Makes a Haunt Great. There are really too many great points to cover in this article so make sure to click that PLAY button to hear our chat. Click here to listen.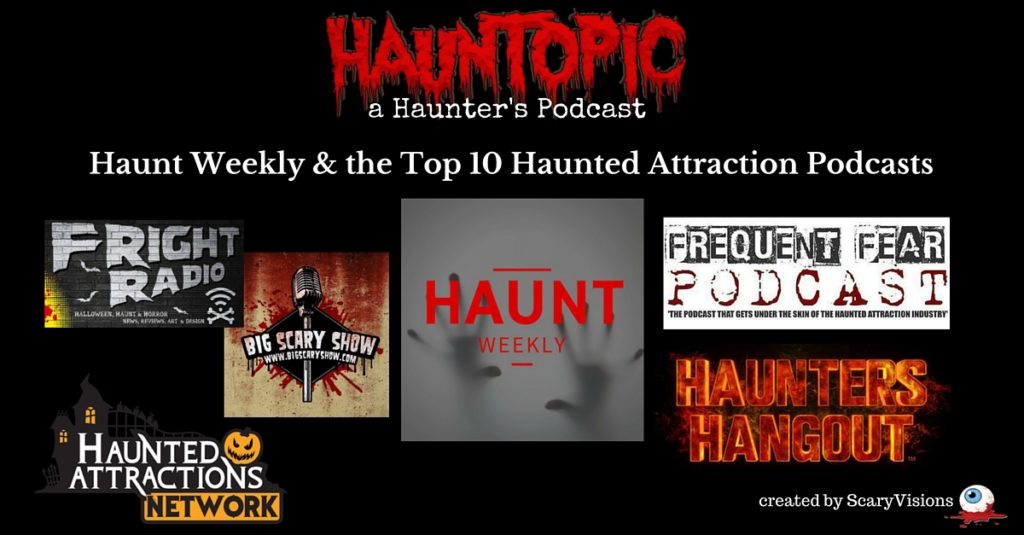 We also recommend some of these other great Haunt Attraction Podcasts that might just perk up your eardrums and keep you company on those long nights of Haunting.
Haunted Attraction Podcasts & Audio Shows
Podcasts with a Horror flare with a dash of Haunting. 
Pro Haunter Tip: Take advantage of all the FREE information out there for Haunters. Whether that's a podcast, a video, or an article. The more you learn the better prepared you'll be for that next project, that next Haunted Attraction, or just to jump start an idea. Podcasts are a great way to learn on the go!

Most smartphones have 'Podcast Apps' that pull feeds in from other places. I use PodCruncher on my iPhone.
All Music and the Creepy Story inside this podcast brought to you by The Night Keep: Heretica
We want to thank Jonathan & Crystal for their time and devotion to the Haunted Attraction Industry. If you know of any other Haunted Attraction Podcasts please leave a comment below or use our CONTACT Page.
Thanks for Listening!!