Podcast: Play in new window | Download
It's only a few months to Scare Season and you still need a few more props, you need some ideas for that gore set in your Haunt, and your actors need some more training before you set them loose.
Good news! There are still some Haunt Conventions/Haunt Faires right around the corner.

Chicago Frights, in Napersville, IL, is a Haunt and Halloween gathering of like minded people of every age and level of experience who love Haunted Houses, Halloween, Special Effects Makeup and scaring people. Chicago Frights is a fun-filled four days and nights of Haunt Tours, Haunter Education, a Dealer Room for all your supply needs, a Monster Costume Party, the Last Ride Car Show, Haunter networking and so much more! (July 16-19th)
We get Leonard Pickel, Founder at HAuNTcon and Chicago Frights, to fill us in on what his new haunt convention brings to the Chicago area and why you need to be there.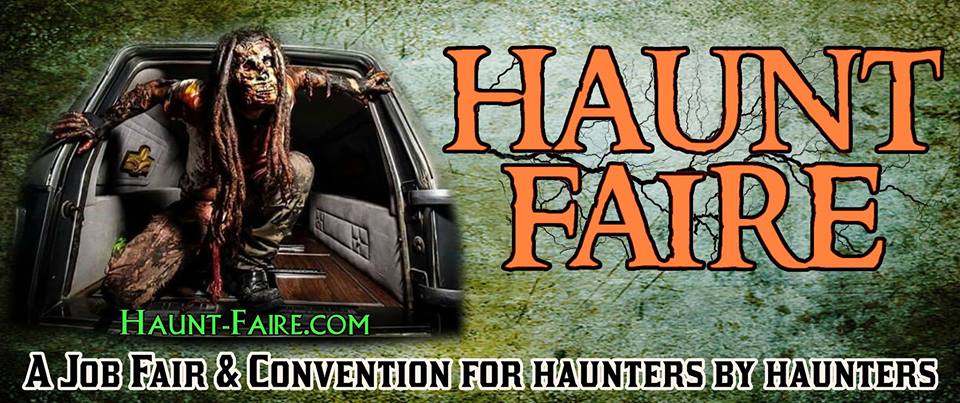 Haunt Faire, in Hauppauge, NY, is also a new convention this year that will have plenty of activities for Haunters, Horror Lovers, Paranormal Junkies, and Halloweenies. Makeup Wars, Classes to take your Haunted Attraction to the next level, industry vendors, and lots more entertainment! Two days of horrific fun, learning, and socializing. (August 1st & 2nd)
We also interview LC Macabre (Elsie Ginsberg), Founder of Haunt Faire, on why her convention is a bit different than your every day haunt gathering (including a job fair). And what the Haunt Faire is bringing to the east coast!
Both of these haunt gatherings are brand new for 2015 and are focused on Haunters. If you are needing supplies for your Haunt, learn some new tricks for your haunt business, or just want to meet your friends before the season officially starts...these are great events to attend.
We also include some creepy audio tracks from Sam Haynes, give you an update on the new Haunted Attraction 'The Dead Factory' in Mexico, Missouri (Brian's project), and we throw some bonus content in there for you to chew on.
So...put your earbuds in. Think of something scary and twisted. Now go build it! The season is right around the corner. 🙂
and Share the Scare!