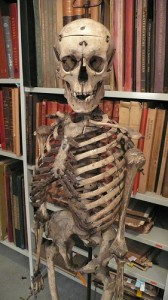 The highlight of the year for scare enthusiasts is fast upon us, and making your own entire corpse, or parts of a corpse, is the best way to make a truly frightening impression on your guests at Halloween. So, if you fancy a spooky buddy for Halloween night, follow this guide and get haunting…
The full corpse
If you need a fully clothed character to glare frighteningly at people as they arrive at your house (and your weird uncle Alan isn't available), why not try this ambitious full corpse and really go for it this Halloween.
Wooden framework
Create the body for your figure using pieces of 2×4 cut to form the outline of:
Shoulders
Arms (with an elbow joint)
Spine
Hips
Legs (with a knee joint)
Attach these together with duct tape, sturdily across the shoulders and hips, and with a hinge on the elbows and knees to give your character a slightly flimsy, jerky look.
Hands and feet
Use grey gardening gloves and old shoes sprayed with black paint at the finger tips and toes so they look rotten in gloomy light.
Head
Take a cheap plastic skull and, using PVA glue, cover it with a thin layer of muslin cloth. Add small amounts of grey paint in the shaded parts to make a cheap tacky skull look like it's covered with rotting skin. Long grey hair from a fancy dress wig will also make the skull look more human-like.
Clothing
Make an old shirt and suit trousers look aged and grimy using watered-down yellow paint and a smattering more of spray paint.
A skeleton
A cheap plastic skeleton can be turned into a frightening corpse by using cobweb material, latex paint to cover, and a small amount of liquid latex and brown paint for the ageing effect. Frightening!
Body parts
If you haven't got enough time or space to make a whole body, what about just making a few bits to freak your guests out?
Eyeballs
Bouncy balls make the perfect basic shape for eyeballs. Spray paint them black and then white. Use an earplug to make the iris shape and then accurately draw the pupil with a fine paintbrush. Use a paper towel to apply thin streaks of red acrylic paint to give the appearance of broken veins on the eyeball.
Brains
An edible brain could make the perfect centrepiece dessert for a party. Shop around for a brain-shaped jelly mould and fill it with panna cotta and cranberry sauce. Once your guests see this dish, they will really feel the gory atmosphere.
Dressing yourself to match
After making such an effort to make your house look the part, don't let yourself down by wearing an old sheet and thinking it makes a believable ghost outfit. Halloween costumes are worth putting some work into, and so going to a professional supplier such as the Escapade London fancy dress store is a good option if you're more skilled at corpsing than you are at sewing.