Podcast: Play in new window | Download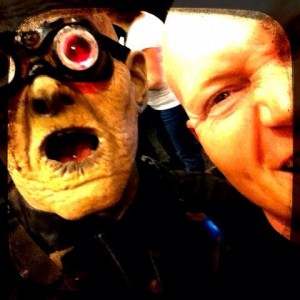 Wow! What a show!
Yes...I'm talking about the Transworld Halloween and Haunt Show that was hosted in St.Louis,MO on March 7-10 2013. This was my 5th time attending and each time the experience is different. There are always new props, different faces, and exciting new events to participate in. Unfortunately, I only had one day to try to take it all in. I didn't get to meet all of my friends there but I did manage to capture a few audio interviews for HaunTopic Radio. I also made a few connections with vendors who are excited to be donating more prizes to the lucky monthly winners of the show. (No prize this month.)
Here are just a few of the people I stopped along my journey of the trade show floor at Transworld and those who are highlighted in this special edition of HaunTopic Radio:
Bobbie Weiner (Bloody Mary Make-Up)
Cliff Allen (The Haunting Truth)
Chris Baker & Revenant (Hauntcast)
We would also like to give a few scream outs to our Hauntlings that help out behind the scenes here at HaunTopic Radio:
Thank you Matthew Freyer of Matthew Freyer Productions who keeps our graphics looking great! Matthew has helped create the logos and banners for HaunTopic Radio and continues to be a well trusted source for graphic design in the Haunted House Industry. If you are looking for banner design, website design, or logo creation then Matthew is your guy!
Thank you Matthew Hampel who is taking on the challenge of keeping our HaunTopic Facebook Page and HaunTopic Twitter account interesting and valuable. We want to share more stuff from other Haunters and Matthew is up for the challenge. If you have any cool video links, articles, tutorials, etc that you want to share with us then look us up on these two networks.
Our next shows are with Leonard Pickel of HAuNTcon and more coverage from the Transworld Halloween and Haunt Show 2013. Stay tuned.....