Podcast: Play in new window | Download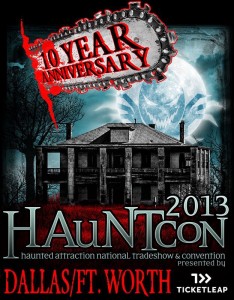 In this episode of HaunTopic Radio, Darryl Plunkie goes solo and gets a few of the attendees and vendors on the mic to talk all things HAuNTcon. Guests such as Bobbie Weiner from Bloody Mary Make Up, Dick Terhune the famous Voice From Hell, Alex Lohmann from 13th Street Morgue/Dungeon of Doom, and Henry Cowen who provides Theatrical Supplies to Haunted Attractions.
We also cover a few informative seminars and why you need to take advantage of them to succeed in the Haunt Industry. A peek into the Hearse Convention. And don't miss out on the Haunt Garage Sale to get some deals on some discount products at the convention.
The Haunted Attraction Tradeshow and Conference (HAuNTcon) is an convention "Designed by Haunters, for Haunters" of every age and level of experience. Four fun-filled days and nights filled with Educational Seminars, Workshops, Trade Show, Haunted garage Sale, Custom Hearse Show and networking socials like the incredible Costume Ball, who's theme this year is The Texas Chainsaw Massacre Masquerade.
Here is where you can find our guests:
Bobbie Weiner (Bloody Mary Make Up)

Dick Terhune (The Voice From Hell)
HAuNTcon Special Links:
Business Classes

Hearse and Parade
ENTER THIS MONTH'S CONTEST AND WIN FREE HALLOWEEN COOKIES FROM WHIMZKULLS! MAKE SURE YOU'RE ON OUR EMAIL LIST. SIGN UP HERE